Photo by suemack via iStock
Off-roading means crossing some nasty terrain that can cause all sorts of damage to your 4×4.
Even with armor upgrades, the likelihood that your rig will be damaged at some point is pretty good. But better to have armor than not, that's for sure.
The question is, what kinds of 4×4 armor are there? Let this brief guide be an introduction.
Skid Plates
Your off-roader might have come with skid plates from the factory, but if not, there are a wealth of companies that offer skid plates for all sorts of 4×4 vehicles, like the ARB front skid plate for the FJ Cruiser shown above.
Skid plates can be found under the transfer case, fuel tank, front suspension, and even under the transmission and oil pan on some vehicles. They serve the purpose of protecting these critical systems from debris that's flung up towards the underside of the vehicle as you're cruising trails. Likewise, they are intended to provide protection as your vehicle slides over dirt, rocks, tree roots, and so forth, thus making them critical 4×4 armor.
Just be aware that if your vehicle came with factory skid plates, they may not stand up to heavy abuse. This means that if you're navigating trails with big rocks and the underside of your vehicle is constantly hitting those rocks, you might consider beefing up your skid plates.
4×4 Armor: Bumpers
Another area that is prime for armoring up is the front and rear bumpers of your rig.
The factory bumpers on your vehicle weren't designed to withstand bumps, scrapes, and impacts with dirt, rocks, and roots on the trail. If you keep your factory bumpers on your 4×4, you should be okay with them getting destroyed (or perhaps lifting your rig to give the bumpers more clearance).
But the other value in getting 4×4 armor for your bumpers is that you can get all sorts of styles, from sleek slider style bumpers to bumpers with integrated winches to bumpers that look like something out of Mad Max. The Moab Bumper from Mercenary Offroad on the Jeep Wagoneer shown above is a sight for sore eyes!
Additionally, aftermarket bumpers often come with an array of options and accessories, like recovery points, holes for mounting lights, the ability to add bull bars and winches, and so forth.
Learn More:
Rocker Guards
If we're talking about 4×4 armor, we need to talk about rocker guards…
One of the most vulnerable areas to damage on your off-roader are the rockers, which are just below the doors. The good news is that this area is easy to protect with armor and rocker guards are fairly inexpensive.
Just like with skid plates, your vehicle might have come from the factory with some protection for this area. Typically, this takes the form of side steps. However, there are two problems with factory side steps. First, they don't provide complete protection for the rocker area, and second, they reduce ground clearance.
If you invest in aftermarket 4×4 armor for the rocker area, you'll get far better protection, functionality, and looks (if you ask me, anyway). Options include body-on-frame sliders, bolt-on sliders, and even frame-mounted sliders that are welded to the body.
I opted for Rock Slide Engineering Step Sliders. They're bolt-on, so they're easy to install, plus I think they look killer. The retractable step is also nice for my wife, who is quite short, and my son, who is five, to get in and out of my Jeep Gladiator. You can learn more about these sliders in this full review.
Other 4×4 Armor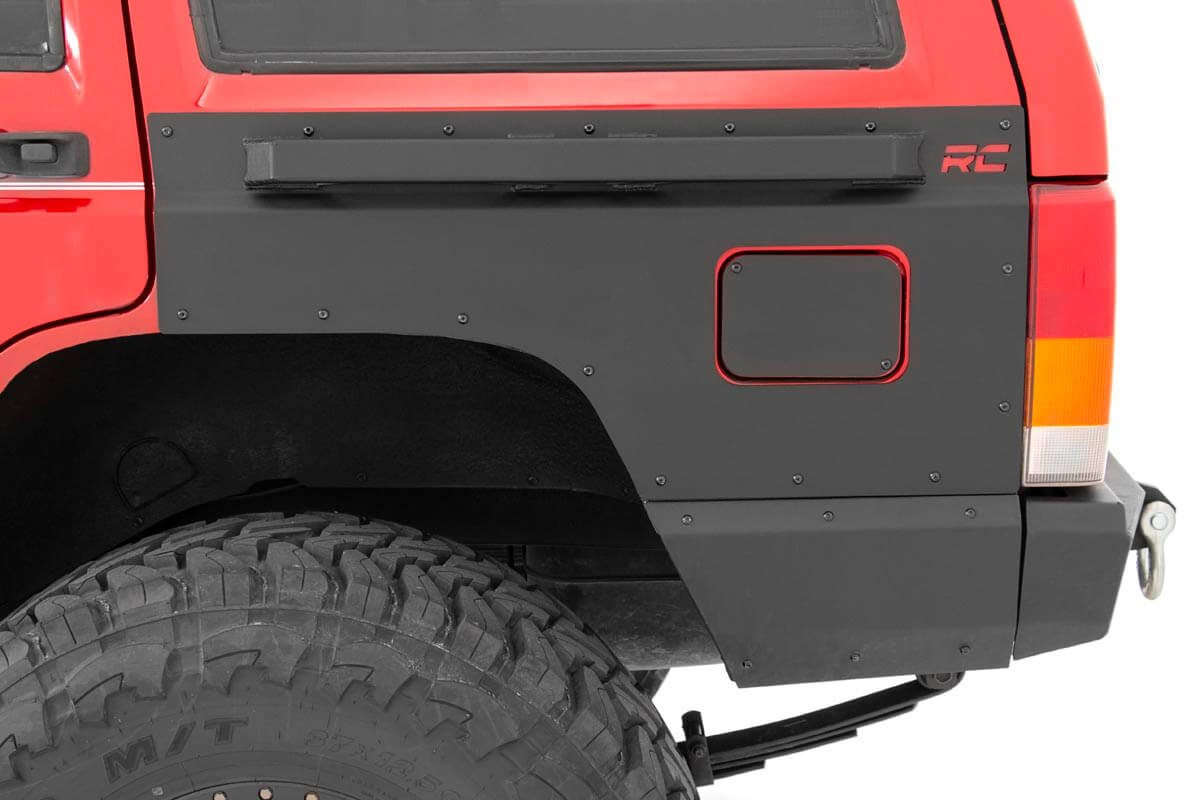 Skid plates, bumpers, and rocker guards are likely the most popular types of armor for off-road vehicles. But there are other options if you want additional protection…
Many off-road enthusiasts add armor to the axles of their vehicles to give them added protection from rough trails. In some cases, you might find heavy-duty axle housings, welded-on options, bolt-on options, and differential covers made from high-grade steel.
If you get really wet n' wild on the trail in your Jeep, you might consider adding body armor to your 4×4 as well (like the Rough Country Rear Quarter Panel Armor for XJs shown above).
Jeep Wranglers, CJs, and XJs are prime candidates for body armor because of all the flat body panels. This makes it far easier to fabricate body armor than it is for a vehicle with lots of gentle curves and bends.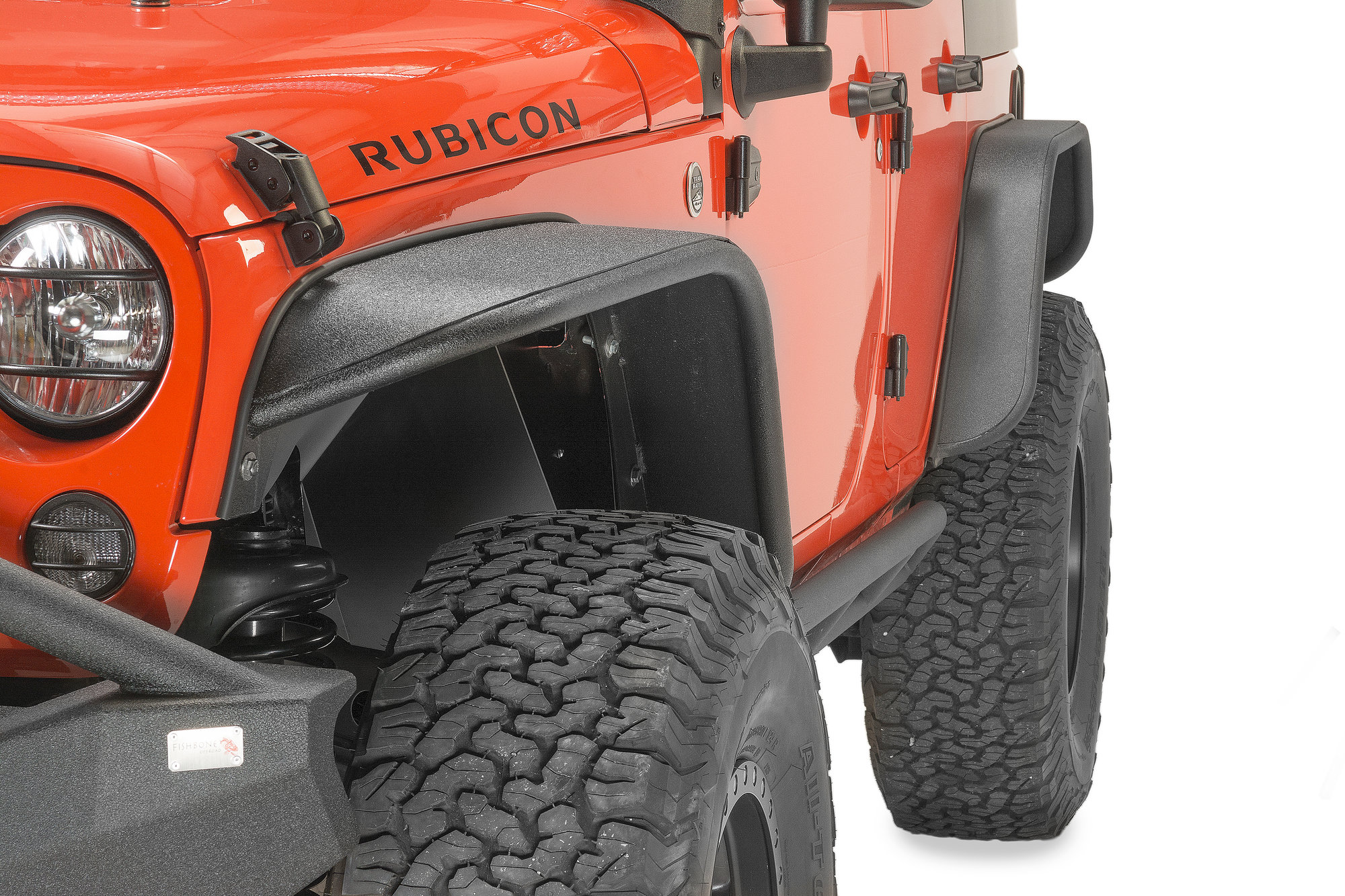 Upgraded fenders are another 4×4 armor option as well. Beefier fenders (like the Fishbone Offroad ones shown above for a Jeep JK) can help mitigate damage from rocks and other debris that flies up from the tires. While they aren't complete protection from damage, they can certainly help spare the body of your 4×4 from some damage.
The point is that adding these types of 4×4 armor – even if they aren't completely bulletproof – will enhance your ability to go off-roading while minimizing damage to your rig. The more protection you have for your vehicle, the longer your vehicle will last, and in the long run, the less money you will likely have to spend on repairs.
What's not to like about that?!